Boyd Hendriks is Managing Director of Informationland ®. He founded Informationland in 1996, shortly after the first official publications and definitions of knowledge management in the USA. Now, years later, Informationland is a well known partner for change and innovation consultancy, with a strong reputation in knowledge and information managament.
Boyd himself often leads the change or intervention, but occasionally cooperates with other specialists or works with teams within the client organization. His approach to cater for change in knowledge intensive organizations based on a solid business case has led to many successes. His creativity and many experiences in various industries and government agencies is also the source for new and innovative ideas and solutions. He works mainly in the Netherlands and England, but also regularly elsewhere in Europe and in the Middle East.
From the beginning Boyd has been involved in education and training. Today he teaches the international Minor Knowledge Sharing & Web 3.0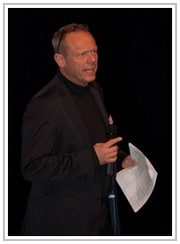 at the High School of Amsterdam and with VOGIN he teaches courses and seminars. Boyd also develops his own courses that are much appreciated in the knowledge management field. As a trainer, he has a respectable reputation. His humorous, inspiring and enthusiastic teaching style appeals to many. He is regularly invited as chairman or speaker at conferences and seminars in the Netherlands and abroad.
He studied Geology at the Free University of Amsterdam and economic and management sciences at several international business schools. For a number of years he lived in the southern part of Africa. Today, both the Netherlands and England are his home. In his free time he likes to paint and film. He also likes to make time for motorcycle rides on his motorbike and traveling to other cultures.